Specification:
2/3/4/5/6 Inch, 4inch
Diameter:
125/150/175/200/250mm
6 Inch Black PU Caster Wheel  without Brake
Description:
    TPE/TPR has the characteristics of rubber's elasticity and plastic, which can make the foot wheel more durable, has the characteristics of anti-impact, silent and does not hurt the floor. In addition, it has excellent weather resistance, low temperature performance, chemical resistance, waterproof, steam and piercing resistance. It is superior to natural rubber and TPU in processing and forming. We developed for sandwich castor TPE material, with easy molding, the characteristics of high load, successfully solve the defects of the injection molding is prone to bubbles, a famous castor manufacturers use to the United States.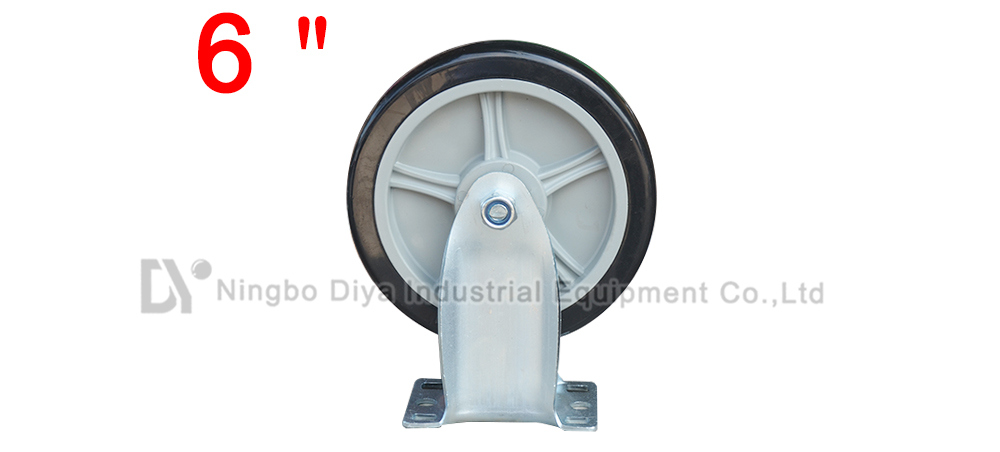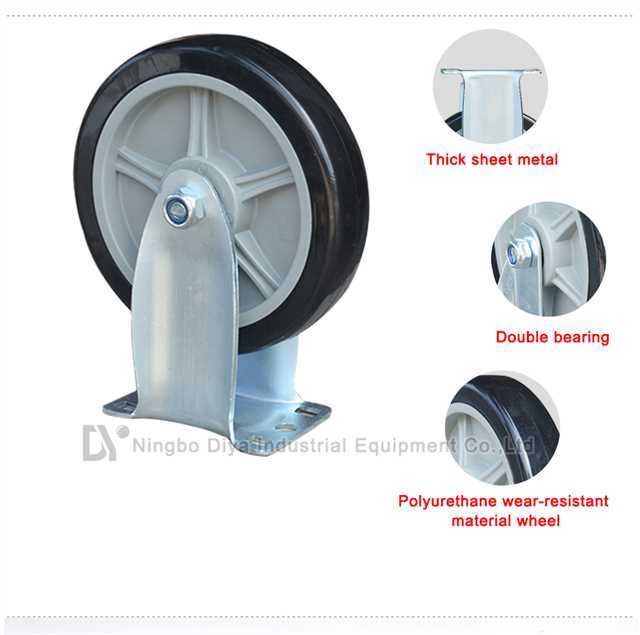 Our company has high elastic wear-resisting grade, universal wear-resisting grade, universal grade three types of materials to meet different requirements of products, very competitive. Main advantages: hardness of 60-90 - a run a quiet, no noise interference excellent abrasion resistance and elasticity of backwash, excellent resistance to uv and ozone resistance excellent damping effect, good resistance to contraction good tensile performance, high elongation at break dust-free, anti-static, conductive (10 hours don't wear); A trace on the floor, not there will be precipitation sulfur and carbon black rubber wheel Weathering good corrosion resistance, can be applied to various harsh and extreme environments inside and outside wide scope of heat-resistant, allowing the long-term use of temperature range between - 50 ~ 115 ºC; High bearing capacity (25-500kg), high wear resistance, high rebound 70% or above. And PP have excellent adhesion relay, can pass the American ICM standard life test excellent safety and health performance, has passed the ROHS, PAHs test, meets the eu environmental protection requirements.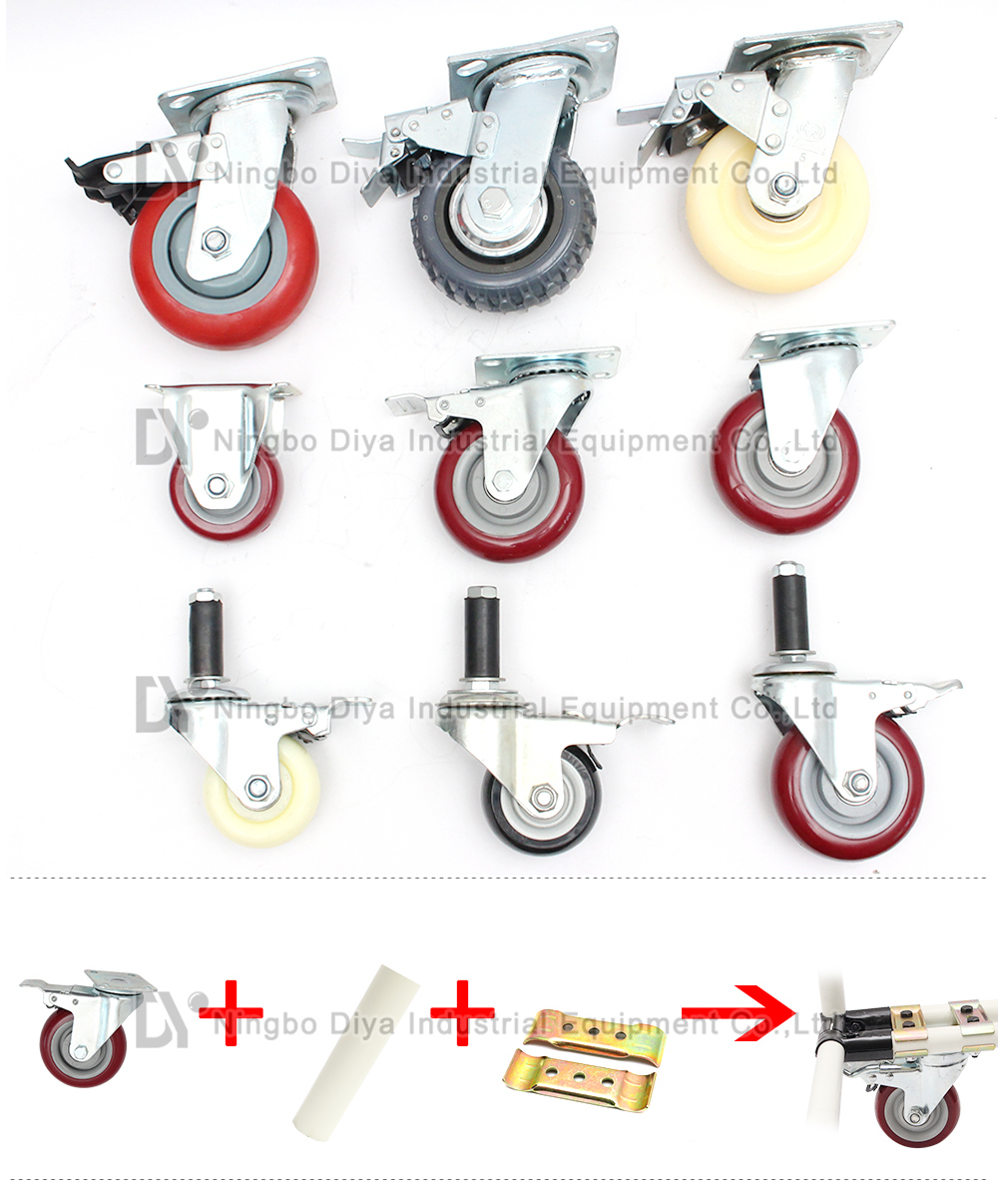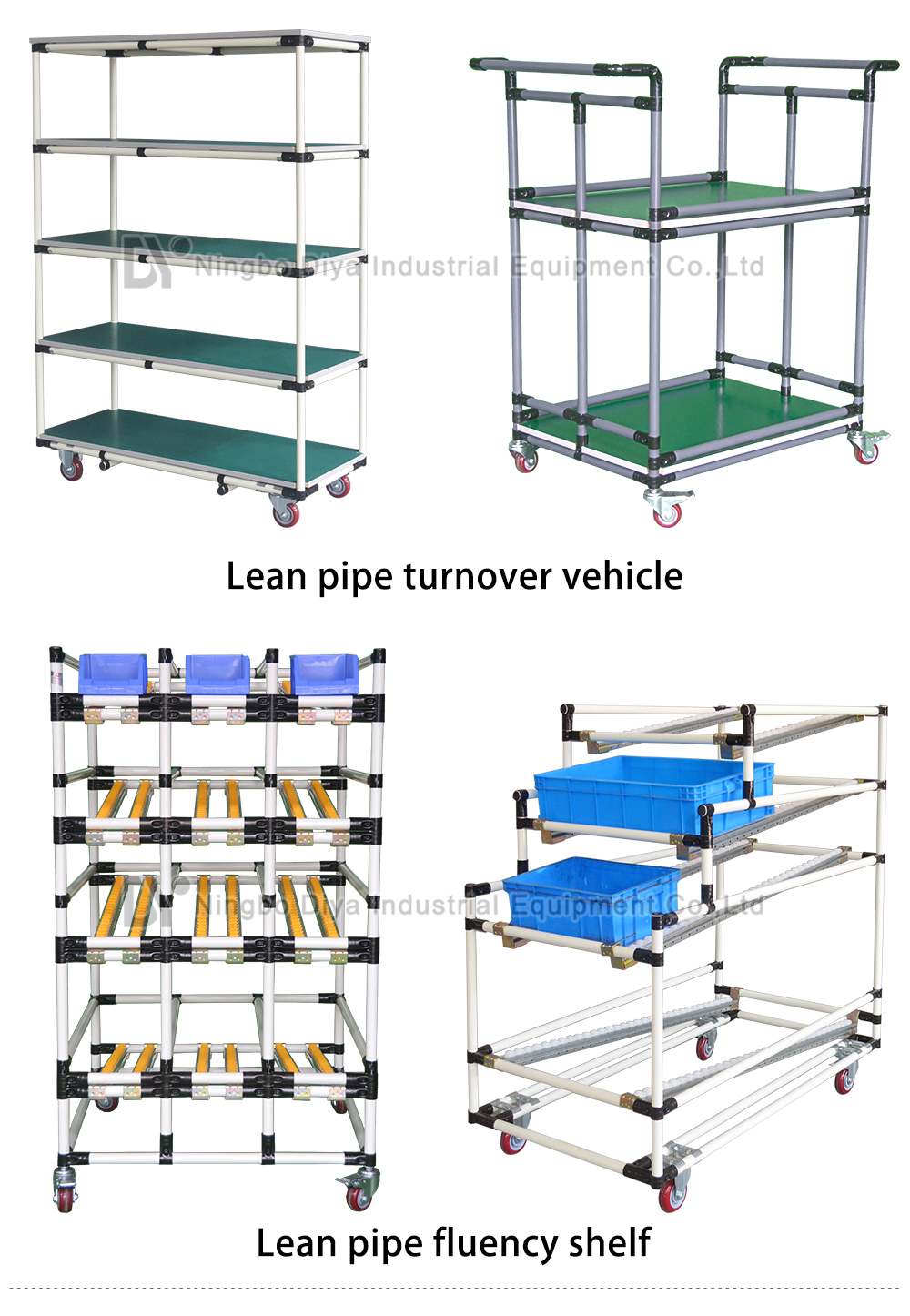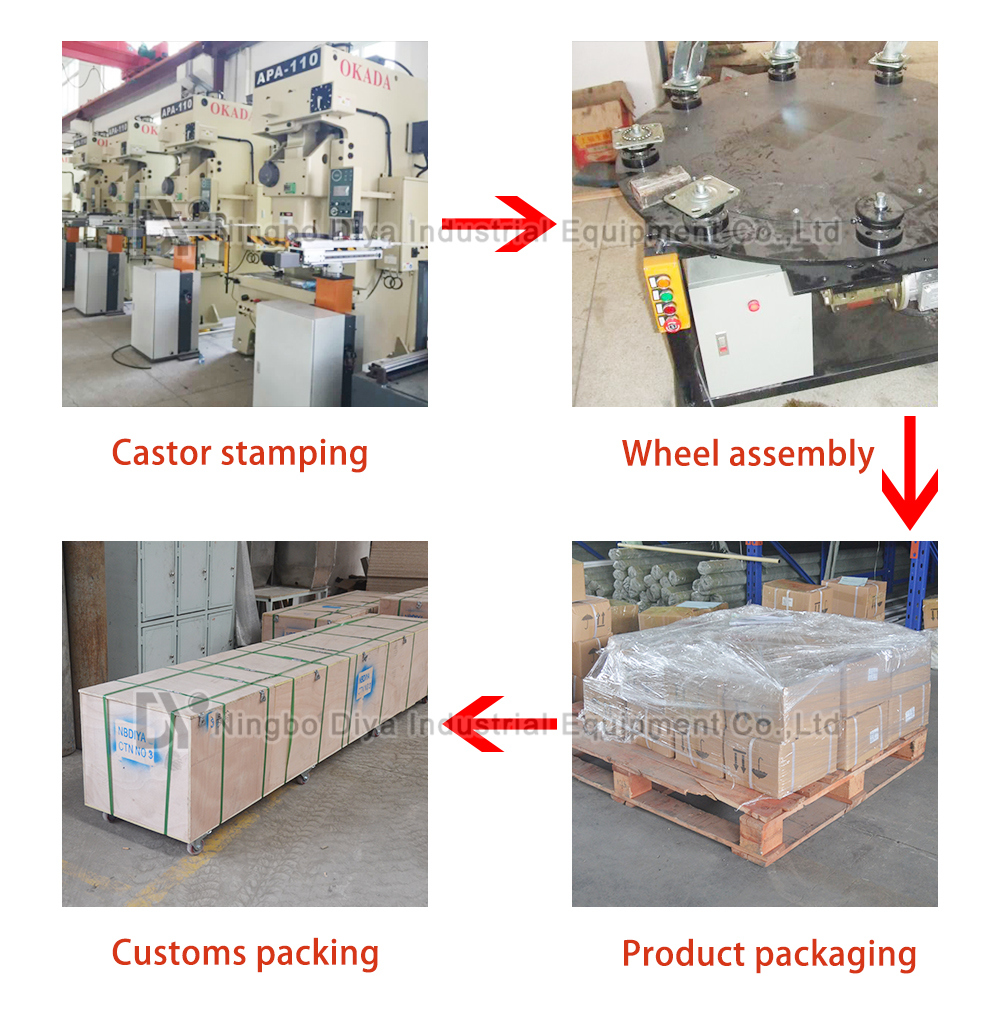 | | |
| --- | --- |
| Product name | Â  |
| caster diameter | 125mm(5") |
| Model | PB-DX-5-PA |
| installation height | 142mm |
| bearing | 500KG |
| material | PA |
| Castor width | 50mm |
 
 
    Ningbo DIYA Industrial Equipment Co.,LTD was founded in 2010, is a professional ,integrated of manufacturer and supplier of lean production and remolding, intelligent logistic planning. Automated manufacturing. Our factory covers of 5000 square ,meters, we constantly supply one- stop service of lean production equipment, since founded.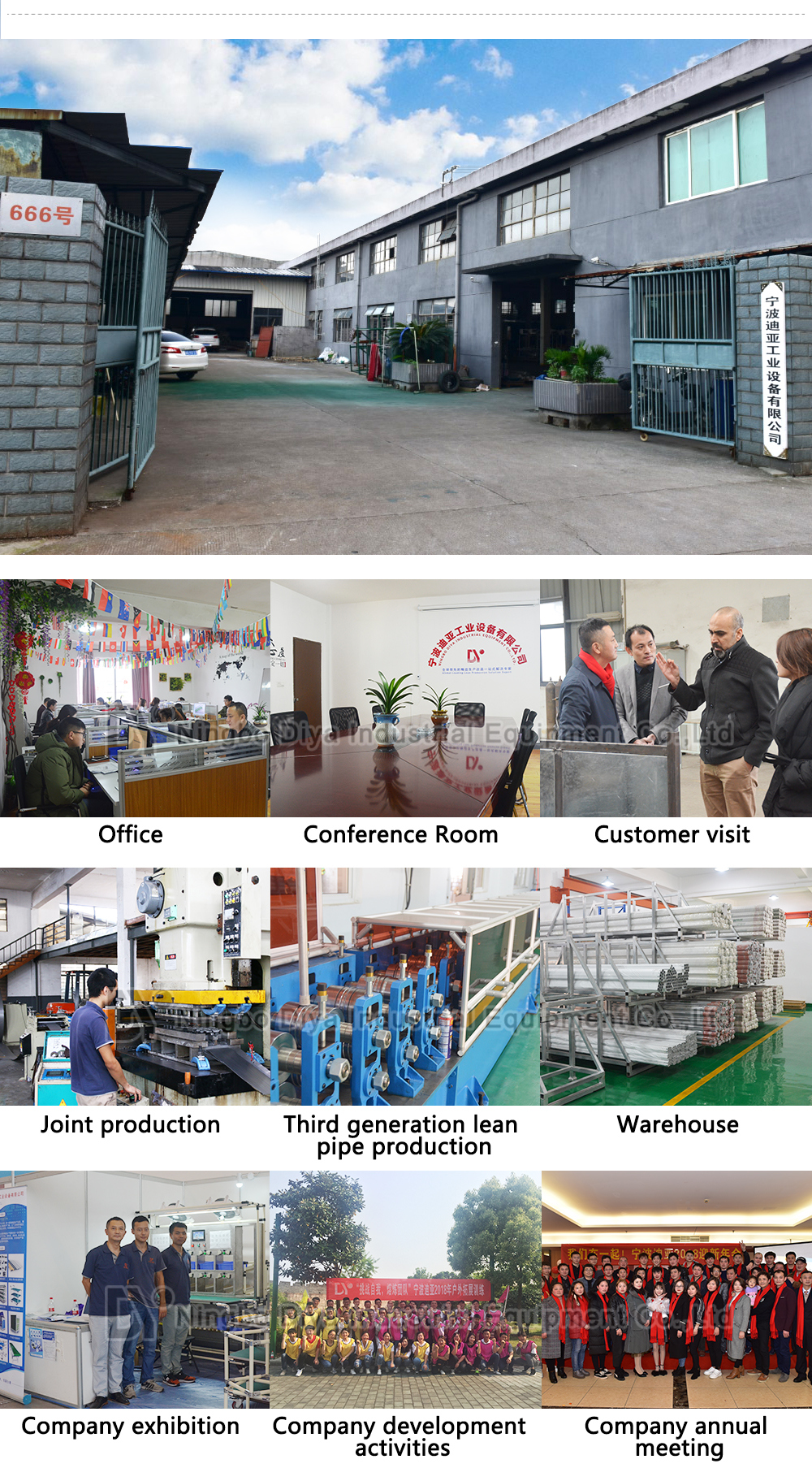 China leading manufacturers and suppliers of Vinyl Wall Fabric :

Wallpaper Material: Vinyl/pvc surface with fabric/textile fabric backed

Wallpaper Size: 1.1m-1.37m*10m-50m
Wallpaper Style: 3D, Damask, Classic, Modern, Flowers, Bricks and Stone Wallfabric etc.
137Cm Wallcloth Wallfabric,Home Decor Wallpaper,Plain Design Wallcloth,Hotel Wall Cloth
SHAOXING VIGOUR DECORATION MATERIAL CO.,LTD , https://www.vigourwallpaper.com